Property Management Company Review - Townhome association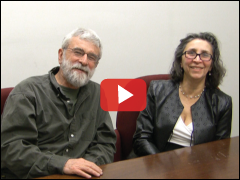 Board members of a town home association located in the UIC area of Chicago discuss their experience working with Connected Property Management.
Video Transcription
Below you will find the transcription of the video testimonial if you prefer to read the content.
Click any of the topics below to view the interviewee's response.
Andrew: My name is Andrew Chrucky. I am the president of the Garden Courts Association. We're situated by UIC. This is my wife.
Kathy: Hi, I am Kathy Chrucky and I am the secretary of the Garden Courts Association, a 150 unit town home association in Chicago.
Andrew: I believe I looked on the internet and saw Connected, and Carissa, a representative, immediately showed up and looked at the premises and gave us a proposal. There were two alternatives. Financial management and financial management plus contracting for services. We met twice, I think, with Carissa with the full board and we were impressed and we decided to go with Connected.
Andrew: Our assessments are rather low by comparison to other associations. We have a $100 per month assessment but, given our previous arrangement, the bulk of the money was going to the management service and we had very little money to spend on improvements.
We had a wall we had to rebuild, we had concrete work to be done, and this strained our finances. So our concern was to find a way of saving enough money so that we had money to improve the infrastructure of our association. Connected had reasonable rates and we saw that if we had Connected, we could really have enough money to do everything we needed, and its been turning out that way.
Kathy: One of the features that I noticed about Connected was that you did not have to lock yourself into a one year contract, and after our experience, we thought this would be ideal for this association. So that was one of the key factors in signing the contract with Connected. The fact that were were able to keep our assessments at the $100 rate and we were able to feel that we did not have to have a contract for the one year. That was a key factor.
Kathy: We got complete transparency. We know exactly what's going on at all times. Especially with our agent, our management director. He's wonderful! He is emailing me constantly every single day. I talk to him, through email, every day.
If I need to call him on the phone, I call him in the morning and we work out some things and then we email each other every day. I am probably in contact with him every single day of the week, whether he's updating me on something, or whether I have a question, or ask him to do something or follow up on something, he's there constantly.
The other thing is we heard from our residents that when they call, there's an immediate response. So they always get someone and they have have an immediate response. So what our manager will do is if he can take care of it, he takes care of it immediately. If he can't, he calls...he emails us and we say "Ok lets handle it this way." Either I take care of it or I'll tell him how to handle it. So we have this double team where he's part of our team.
He's part of our association really because he's always there. He's an extension of us. So the people are very happy and they know that they can call and they know that they get an immediate response, which is quite different than what we had in the past.
Everything is online with Connected. Our community is mostly older individuals, but the fact that everything is online makes everything very accessible to us also. So it's very transparent, it's easy to get to, so we can look at the financials and look at all of the information that we need to manage the association.
And another thing that you do for us is that you can direct us to different avenues. Let's say that I have a question. You are not afraid to help me with the questions that I have and you'll say "Oh, Kathy, I think you should handle it this way" or "Kathy, research it here. Go to this website and check that out." So you have all of this other information that's behind you that you're willing to share with your client and I think that's very important too. Very happy with Connected.
Kathy: Well, you know what I was really impressed with? I was impressed with you. No really, I was very impressed with you. We had a change in our management agent and we had a little down time at that one period and to have the president of the company jump in and do all of the nitty gritty, and do the emails, and do whatever you had to do to, to me, was so impressive and that's another reason why I would stick with Connected forever if...as long as we're on the board. Connected is the company.