Property Management Reviews - Condominium association board president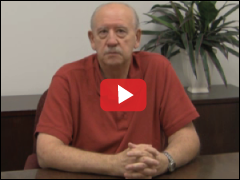 A board president and long-time client of Connected provides feedback about his relationship with the company.
Video Transcription
Below you will find the transcription of the video testimonial if you prefer to read the content.
Click any of the topics below to view the interviewee's response.
Hi, I'm Bill Hespel. I'm the president of a condo association here in Chicago. I have, and our board has, been with Connected Management for 4 years, and it's been 4 great years.
Things we were looking for in a management company were to give us a budget plan that we could work with. Also, a maintenance plan that we could work with in our building. Even though our building is 6-years old, you still have little things that pop-up. So, they have a person on their staff who comes out and does a monthly inspection on our building and lets us know what he notices that could be a problem - that needs to be repaired, that needs to be fixed.
We keep an eye on things much better between us as the association and Connected. We stem a lot of these problems, and this is what we're looking for, before they got big and major. So if it is a minor roof issue, or a minor plumbing issue, you want it done before it turns into a big cost. We do this as it's cost effective.
That was our big thing because our people, we're all working people, we're all professionals, we're all not around to be doing a lot of these things so that's why you need a responsive company to work with, and they're it. Connected Management is the place to be with a management company.
The things I like the best about Connected is, it's not a real formal setting to deal with. When you call, it's a first-name basis. You feel like you're talking to a friend or an acquaintance. You don't feel like, they're ever frightened to give us good advice. I just like a working relationship like that with a company because you do feel very comfortable and, you know, you don't feel like you're a number.
This is almost like a family situation. It's very good. Like I said, I have never ever called where they have not responded back to me. I mean, no matter if it's an e-mail or if it's by phone. They have an open door. I can come in anytime I want and just talk to them. I think this is an outstanding management company.
If there's any repairs that need to be done on the building, what we do is, if I notice something I call Connected and talk to my representative and she'll get a couple of vendors to come out and they'll look at it and will bid on it. Or, if their maintenance individual happens to find it, he will forward that on to my representative and in turn she calls me or e-mails me and we keep that contact going back and forth. And then we will say, "Send me out a couple of vendors for getting estimates on this job." And I know they have a large list of vendors they use for different things.
And they say, "If there is anybody that you think you may want to use, that is fine. Just make sure that they're reputable, and licensed, and bonded and they can talk to us at Connected Management." Which I think is great because you have to be happy with the service that you get and I'm happy the service I get from Connected and I've been very happy with the service from their vendors, so far, that we have used. The process is easy. It's no pain involved at all in this. They're very good at staying up on everything.
It's been fantastic. We have not had any problems that we've had to deal with, they deal with them for us. They take care of all of our financial needs. They take care of our bills for us. They take care of all of our situations that we have. They're just an outstanding, responsive, management company.