Connected Property Management Review - Board president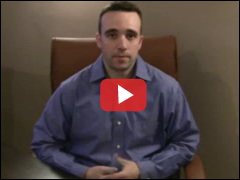 This president of a Chicago-based condominium association discusses the relationship with Connected Property Management.
Video Transcription
Below you will find the transcription of the video testimonial if you prefer to read the content.
Click any of the topics below to view the interviewee's response.
I'm Jeff Baird. I'm the president of a 25 unit condominium association on the north west side of Chicago.
We had just taken over management of the association from the developer in May of one year. We spent about two or three months over the summer trying to get a handle on what we needed and we entertained all possibilities. We entertained the possibility of managing it ourselves. We entertained the possibility of hiring a limited service vendor to come and do some things around the property, and we keep the books ourselves and hire vendors ourselves. And then, of course, the full service options.
And over those two months we realized that with our volunteer time we would get burned out very quickly if we were cashing everyone's checks, and going to the post office all the time, and getting quotes, and making phone calls. We wouldn't have any time to think about the big issues around our building and it would be a real disincentive for anyone to serve on the board. We ultimately decided that we needed full service agency to help us with those things so that we could concentrate on what was most important to us.
At the time we wanted someone who could manage our checking account, who could hire vendors, who had a network of vendors that they would be able to get quotes from, a network of vendors that they would trust, and that they would be able to give us advice on the building. I think the biggest thing for us was we needed a certain comfort level with the staff, that when we had an issue, we need to be able to call and trust the answer that we got. Because we as a board knew that our skills did not include all the things that you need to know in order to repair a building and keep it in good shape.
So, we needed to be able to call someone and ask them questions, whether it's a physical question about the building, or whether it's a legal question, or financial question, or general management question. We needed to have some comfort level that we could trust that the answer was right for us.
It's really hard to make that judgement at the very beginning, but we made an excellent choice with Connected and we have used it, and we have had to make those calls, and we've been very fortunate to get great advice in exchange.
Well Veronica is our property manager and she's outstanding. When we have questions, if she doesn't know the answer, she finds it out. We had a really big issue at our property with some water coming in to the top units, coming through the roof. We had vendors come out to our property, probably four of them, and gave us four completely different diagnoses, and four totally different solutions.
We knew that we didn't have the skills to think critically about those choices and so what Veronica was able to do, in a stressful time for us since we had unit owners with water in their house, was get vendors on the phone and some other staffers at Connected together and help us work out a timely solution. And that was the biggest issue that we had as an association last year, and there's no telling what we would have done without good advice like that. But also timely advice, because people felt it, people were calling us, we needed to get this fixed. "It just rained again, there's more water in here, what are you doing?" and we needed to be able to lean on someone to help us work through that problem and work through it quickly.
The owners and the board, we all like the single point of contact. If there is a question at the property, whether it's lights out, which happens at our building all the time, or something is not locked right, or something is in disrepair, or any type of issue that an owner has, it is very easy for them to call the same person and the same person will get back to them.
Rather than having them call a volunteer who may be out of town or may not be able to prioritize that at the moment. So I think the owners like being able to call one person whose job is to think about our property and that's what they like. What we like is that we can think about our property as much or as little as we want.
If we don't want to think about it at all one month, it's on autopilot and they take care of everything they need to. If we want to address a lot of questions, we have a board meeting coming up, or we have a lot of questions that we need to think about, then we'll dive right in they'll answer as much as we need. So, that's what we've been most impressed with.
It's very hard at the beginning when you're interviewing companies. You don't know if the attention that they give you during the interview process will be there later on. You don't know if the folks that you are working with will be the ones that will be on the other end of the phone when you pick up and call, so it's very tough.
For us, one of the biggest things was "how comfortable are we that we'll get good advice in a timely fashion?" Of course, the routine management of our vendors, of our checks, of cashing the assessments, that's all extremely important and it's also important to be able to get solid financial reports. But the biggest thing to us was the comfort level and can we trust them.
Because if we couldn't trust them then we'd be throwing our money away and we wouldn't get a good value out of it. So I think the biggest thing for us has always been the comfort level with the staff, and our trust that they're working in our interests, and that they have us at the top of their list and not at the bottom.