Client Review - Vintage condominium complex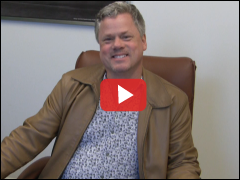 This board president of a vintage condominium association in Chicago provides a review of Connected Property Management.
Video Transcription
Below you will find the transcription of the video testimonial if you prefer to read the content.
Click any of the topics below to view the interviewee's response.
My name is Kevin Kleinwachter and I am the board president of a 26-unit vintage condominium association here in Chicago.
What I was looking for in a property management company was basically a property management company that could stay one step ahead of us, the board. Do a little bit of our thinking for us and keep us on track and work along, in tandem, collectively with us every step of the way.
One of the things that we really appreciated about Connected Management was, overall, their philosophy and their culture. I was drawn to the fact that they had a level of partnership between an Operations Manager as well as an Inspection Manager. It was my belief that an Operations Manager would be able to keep everything running smoothly, administratively, within the office, and be responsive to that. While the Inspection Manager would always be available from an engineering standpoint to lead and guide us to our goals.
One of the things I wasn't looking forward to was making the actual transition from one management company to the other. Truth be told, I've heard horror stories and I didn't know what to expect, but I can sincerely say once we made the decision to go with Connected Management that their representatives pretty much spoon-fed us and gave us everything that we needed to go from step one, to step two, to step three and in the end, it turned out to be pretty painless.
There was quite a bit of information that we, as the Board, had to come up with, which would make sense because it's our association, but they kept us going with a series of questions and all of the follow-through that we needed.
Now that we've started with Connected Management I can sincerely say everything has been going like clock-work. Every Friday we receive a series of different reports that keeps the board up to date with what's going on behind the scenes. And once again, the Operations Manager is always available to us, whether it be phone calls or e-mails, and I like the fact that we don't have to ask them for something, they automatically deliver it to us.
Another one of the positive experiences that we've had with Connected Management is we're not waiting too terribly long for either a reply to an e-mail, a telephone call to be returned, or even a series of bids to be delivered to the board for us to make some decisions upon. Once we've shared what our means and our goals are, someone has always followed back up with us versus us having to circle back around and say, "Hey, did you remember that?"
In the end I think one of the greatest things that helped us as a board is that we've had to recognize what our goals were and what we wanted out of a management company, so that way we didn't go into it blindly. As we interviewed several management companies we were able to make sure that their goals were aligned with our goals.
In the end, it was as simple as we picked up the phone, we contacted Connected Management, someone replied back immediately with some general information regarding cost, their set-up and what features they had to offer, which turned right into an in-person meeting, to us eventually selecting them and signing a contract with them. And then, once again, the transition from one management company to the other was led rather well by Connected to help us as the Board. And as a result, I feel really good about this experience, as of late, and it's all working out well.