Connected Property Management Reviews - Board president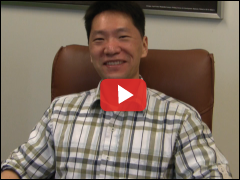 After a partnership of more than 5 years, this board member provides an updated review of Connected Property Management.
Video Transcription
Below you will find the transcription of the video testimonial if you prefer to read the content.
Click any of the topics below to view the interviewee's response.
Hi, I'm Kwang Oh, president of the Tri-Park Condominium Association. We've been with Connected for 5 years and I'm here to talk to you about them and their work with us.
So, it's been 5 years since we've started working with Connected. I'm here for my second interview. We are very happy with their services. It is a quality company that is on top of things. Where we were unsure about Connected back then, 5 years ago, we are very sure about them now.
We can't think of a better company, right now, to go with that gives us the freedom to be able to do what we want to do, at the same time gives us some very good ideas as to direction that the association can move. And in all aspects - whether it be building maintenance, finances or legal advice, all of that stuff gets taken care of by Connected.
And they're a lot further along in their management skills and efficiency from where they were 5 years ago. So I do see improvement both from the company side as well as our own improvements in what we have for our finances and maintenance and things like that. It's great to be here.
Like I said earlier, efficiency and response times are the things that I've been looking for in maintaining this relationship. And the people that we work with here, at Connected, are very-very quick to respond to things. Especially if something is an emergency situation, where I'm not readily available, the tenants are able to contact Connected and then they are able to contact me via e-mail, or a phone call, or some other means, and we can address problems.
For instance, if we have a sewer back-up and I'm at work - I'm not readily available at work, but somebody is able to contact someone at Connected and then they are able to get me an e-mail or phone call and say, "Hey, we have a problem that needs to be taken care of", and more importantly, "And here is what we can do. We can have people that you've worked with in the past, or we can suggest new people, but a) there's a problem and, b) here's some options, let's get this thing taken care of", and I like that.
One of the things that they've brought forward is the action list, which gives us a good summary of all of the projects that need to be done as well as things that have been completed, and it gives us a neat little record of the progress of each of the projects that we have in the past as well as moving into the future. So that's great for us because then we can keep track of those, and budget for those, and also, at the same time, have them be accountable.
We discussed at our last board meeting whether we want to go back to being self-managed or not. We were looking for ways to save money and one of the board members had suggested, "Well, you know, for what we're paying Connected, can we do any this stuff ourselves and save us that chunk of money?"
Both the treasurer and myself, we talked things over, but in the end what it really is - is that there is a time-savings which translates into money, but also the various bidding of contracts and things like that, the work has already been done for us, and so there's cost savings there. And as far as decision making goes, it's not like other management companies where there are hard and fast rules as to who they are suppose to be able to use. They suggest to us, "Hey, we have this contractor, or this company, and we've had a good relationship with them and we get an advantage with them. We know them and they're reliable.", which speaks a lot because that's the type of work that we're looking for.
But at the same time we want to go out and get our own bids with companies that we think might be a better fit. Connected is not opposed to that. In fact, they kind of welcome that and say, "Hey, if that's what you want to do then that's the direction that you can go, we're just giving you ideas." To be able to come to independent conclusions and still be able to have a great relationship, that's fantastic.