Chicago Property Management Review - Condominium president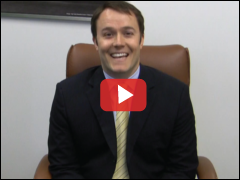 This board president of a Chicago condominium association provides a review of Connected Management.
Video Transcription
Below you will find the transcription of the video testimonial if you prefer to read the content.
Click any of the topics below to view the interviewee's response.
Hi, I'm Mike McNamara. I'm a board member with a 28-unit building and we are on our third year working with Connected.
We met with folks from Connected, they came by. A gentleman came by and gave us a presentation. Sat down with us, listened to what our needs were and laid out a solution. We talked to a couple of other management companies as well and we decided to go with Connected. And we couldn't be happier, obviously. We are on our third year and we plan on being here a long time with Connected. I recommend them highly to anybody.
The interesting thing about me is I own a few rental units in other buildings so I've experienced this with other boards. I've been around some management companies where the last thing you ever want to do is have to call the management company and deal with them because it's like a root canal. With Connected, it's the first thing I want to do is to talk to Stephanie or Paul, the people at Connected. One, it's like, "Is it okay that I ask you to do this? Is it okay that I'm asking you to put in all this extra time?" And Stephanie always says "Yep, that's what I'm here for. Yep, that's what I'm here for." Which is, for me, exactly what I want to hear.
I know if I need to lean on Connected, where other times I would feel bad with other management companies, I know with Stephanie and everyone else at Connected, if I say "I need that invoice from a couple months ago, can you send it back to me? I just want to make sure and see exactly what we paid for." Or, "Do you have any recommendations for snow shoveling services or anything?", it's bam, bam, bam. And it's detailed and it's almost immediate. It's service with a smile too.
You know it's just friendly people. The best thing is I feel like they care about our building which means a lot to me. And that's the kind of people that I want working with us. So that's what we found with Connected and we're real happy about it.
I would say our biggest need was in our finances. They were in shambles. We didn't know what bills we were paying, when we were paying them. Our record keeping was terrible and so when we brought Connected on board, they tightened all that stuff up and very quickly built a trust with them. Like okay, these guys are going to whip us into shape. They're going to keep our bills getting paid on time.
The other nice thing is, if they see a way where we can lower our expenses in a particular area, they're going to suggest it. And, you know, our board, it's 5 people and none of us do this for a living. So to have a professional making those suggestions and actually keeping us on point. We'll get an email once in a while being like "Hey guys, we need to get on top of these finances here." or "Have you looked at these finances yet? We need to make some decisions on some of these different things." Connected keeps us in line. They keep our finances on point.
And the best thing is they make it so we can focus on the rest of the issues that we have with the building and with the community and let Connected handle it. But if anytime we want to step in and say, "Hey, can you show us how things are going with our bills?", or you know, "Where are our expenses? Can they be better?", they're right there for us and there's this kind of immediate transparency whenever we need it.
In our building, we've dealt with serious stuff. We've had foreclosures. We had a squatter, someone that was staying in this unit and we didn't know when he was going to leave. We didn't know how to make him leave, we didn't know what was going on. We had a lawyer that we were paying a truck load of money to answer these questions for us, but Connected and Stephanie who works with our building would give us a second opinion. She'd always say "I'm not a lawyer, but this is my past experience. This is usually how this goes." And that was invaluable because then we could kind of see what was coming forward with some of these really, really tough situations.
We had an infested unit in our building. We had one woman abandon her unit. What do we do with this? Like I said, we're not professionals. And we brought a lawyer into it. But we also had Stephanie and the folks at Connected to say, "Well, this is what you want to ask the lawyer. This is kind of how I've seen it go in the past." So that if the lawyer and what Connected was saying didn't quite match up, we were able to compare and it really empowered us through these really, really tough issues that we were having to deal with. Not to mention, really tightening up all our finances. Keeping all the day-to-day really important items right on point.
I would say one of the biggest benefits that we had with Connected was time savings. Before this, we would have to meet, talk about all these bills, talk about all the different units. Are they up to date on their condo assessments? They're not. Well, what do we do?
How do we deal with Steve who hasn't paid assessments in 6 months? How do we deal with this person that hasn't paid their assessment from last month? Well, what about these bills? Are they getting paid? What's happening to them? We were able to save all of that time.
We basically turned all that over to Connected and they said, "Great, that's what we're here for." We were able to focus on our own personal lives so we could make a living and keep paying our mortgage. And two, just focusing on all the other items and all the other issues with our community and everything with the building.
I have to tell you, I am a skeptical person. I am not a pushover. I really hold people to task. And when we brought on Connected, I will say I was definitely one of the ones that was like "Okay, we've heard the pitch. Okay, we'll give them a couple months." And I was extremely vigilant in making sure everything went the way it was supposed to. And now here I am, recommending them two and a half years later.
I don't recommend a lot of things. And I've worked with other boards. I have a rental unit, or basically a unit that I lived in because I couldn't sell because of the market and where I was renting it out, and I wouldn't recommend those other management companies. In fact, I would love to not recommend them, but I'm not going to get into it. So, I'm just telling you Connected has been great to us.
It's been three years. I can very confidently recommend them to you. They're going to save you a bunch of time. They're good people. They're honest. I trust them and that's the biggest thing is trust because we're basically working with them on all of our finances. And trust is there. The customer service, all of it. I really recommend Connected.