Client Testimonial - Condominium board president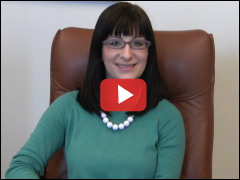 After a multi-year partnership with Connected, this board president of a condominium association located in Chicago provides feedback about her experience.
Video Transcription
Below you will find the transcription of the video testimonial if you prefer to read the content.
Click any of the topics below to view the interviewee's response.
Hi, my name is Christie White. I am the president of a local condo association here in Chicago. For the past 3 years, my condo association has been working with Connected Management and I have been in the position of president during that entire time. So I am here to talk to you about my experiences with Connected.
When we first developed the condo association, we were self managed. Most of the people in the condo building were first time home owners. It was a pretty big struggle to know what we needed to do, to effectively and professionally run a condo organization. We found that being self-managed was a lot of work. It was a lot of time on every board member and so we really needed to get some help.
We were running into problems with having unit owners not paying. We had legal issues. We had building issues that needed to be addressed. And just getting the money in and finding the time to balance the books, take care of the building, and just run the association effectively was really draining on the board members' personal time. So we knew we needed help.
As we researched Connected and a few other companies, we did have the opportunity to have Connected come out and talk to us directly. Sit down, have a face to face meeting with the board members and the people from Connected who we would be working directly with. They told us everything that we could do.
All of our problems that we thought were so overwhelming and unusual, they did not seem daunted by those. It wasn't anything that they hadn't dealt with before. They told us some of the plans they could put in place to help us and it seemed like a very cost effective company to work with.
Based on the meetings and based on some of the research that we did, we decided to go with Connected because we needed the help seriously. And for the past 3 years, Connected has delivered on everything that they said they would be able to do in that first meeting. We have definitely changed our financial situation, our legal situation, and it has eased the board members' minds greatly.
Some of the areas that Connected has helped us with, financially number one. That was the biggest one. Helping us to create a budget. Helping us to get the bills and payments we needed to get in order. And helping us keep track of unit owners' monthly assessments and special assessments has been a huge help and a great time saver.
Within, I would say a few months, our financial status changed greatly from not even having money previously to pay certain monthly bills, to being able to catch up and pay bills and keep on track. When unit owners aren't paying Connected has done a great job of contacting unit owners, reminding them that they need to pay, and collecting money and following the legal process if they aren't paying, which is a huge time saver to the board that we don't have to do that with our personal time.
We've also used Connected's emergency line. We've had various unit plumbing issues that have come up in emergencies on weekends where they have been able to help us and quickly get a reliable vendor out to take care of the problems immediately. We have used Connected and some of their resources legally to help us get out of some of the legal issues that our condo association was in. And that has been one of the biggest reliefs of all. That was one of the main reasons why we needed a management company, to help us with things that we didn't know how to do. The legal issues and the little details that as somebody just moving into a condo you might not know.
One of the great things that I have enjoyed while working with Connected is the communication. As the board president, a lot of decisions need to be run by me, and email for me is a great way to stay in touch. And I have been able to very quickly and effectively get advice and get decisions made through email with quick responses. I'm able to email Connected, my company person at Connected, and they get right back to me as soon as they can.
Whether it's advice I need, whether I need specific vendors to come out and look at issues in the building and collect estimates for me, they will do all of those things that would take me hours to do. To meet with those vendors, to call those vendors, to collect the estimates. Connected will take care of that and they get back to you in a timely fashion.
I've never had to wait or follow up on things. Issues are taken care of quickly and I have a very good relationship I think with the people that we work with here at Connected. And the advice that they have always given when we run into a situation where maybe we are not clear on what to do has always been spot on. They would never tell me not to do something I want to, but they always give me what they believe is the best in legal advice. And that has been a huge help, especially in situations where sometimes, since I'm not the professional condo management company, I wouldn't maybe know the right things to do.
The transition to Connected has been great. Going from a self-managed condo association to one that is working with Connected Management has been just an "amazing relief", is the best words I can describe. Prior to working with Connected, being self-managed, was a lot of stress. Stress on the board, wondering if we are doing the right things, how to do the right things, how do you find out if you are doing the right things? And also, just the time involved in all of the interactions you have to have with unit owners and vendors and legal representation.
The ease that has come from working with Connected has really relieved a lot of the stress that is involved with being a condo board. We can rely on Connected for advice and for assistance when we need it. And it's just really been a relief, is the best way I can describe it. My only regret is that we didn't do it sooner because the years of stress of self management were quite daunting.