Property Management Company Review - Board Treasurer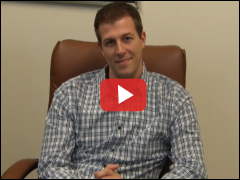 After a partnership of more than 5 years, this board member of a Wrigleyville-based condo association provides an updated review.
Video Transcription
Below you will find the transcription of the video testimonial if you prefer to read the content.
Click any of the topics below to view the interviewee's response.
Hi, my name is Sean Bauer and I'm the treasurer of the Broadway Place Condo Association in Wrigleyville, and we have been with Connected for going on 5 years now. We are very pleased with the service.
Now that a few years have passed, we've had Connected now for several years at our property, and we're still very happy with the service we've had. Everything's been very smooth, consistent, and we've kind of grown into this relationship of Connected knowing how we work, and we knowing how Connected works. It's been a great relationship.
There's trust going in on both sides, communication is very open and smooth, and I think that's one of the things we value most. Even after several years, service hasn't diminished in any way, in fact it's actually improved, and we've been able to get out of it what we need as an association. So we're happy with Connected now and hopefully for years to come.
As an association, even when we came into using Connected at first, we had a few big items that we needed to do. We had a hefty reserve, so finances weren't really an issue. We didn't want to go about the route of special assessments.
One of the big projects we had to undertake was tuck-pointing for the whole building. We had to fix and weatherproof our doors that led to the outside. We had to upgrade the security camera that was pointing outside, and some of the leaking common area windows, all of which were completed over the past three or four years.
Connected made it smooth so that we didn't have to worry about any of these things. We didn't have to necessarily contact the vendors, Connected handled the billing process, and one thing that we very much appreciated, they had preferred vendors that they suggested and they also shopped around for several different leads. In some cases we went with the preferred vendors, in some cases we didn't. At no point was it made a difficult choice in working with these vendors. These big projects, projects big and small, were both handled with grace and efficiency.
With regards to the finances, I'm the treasurer of the board and one of the things we appreciate is that the work is done for us by Connected. When they bring us the monthly budgets or delinquency statements or owner statements, we're just there to talk it over as a board and make decisions.
An example of how we're pleased with that is we get a delinquency statement. Month after month one of the unit owners was tardy, or had a balance that was carried over of just a few dollars every month. It allowed us to stay top of mind and catch that, saying, "Hey, owner, you're paying a little bit late and you're paying a little bit under what you should be paying.", so they can fix that with one lump sum payment and the process was nice and smooth.
And as for the budget, budget proposals come from Connected. On this particular board, the biggest concern is cost from each of the individual units. We're all severely under water on owning these properties. Connected has done a nice job of keeping the budget in line so as to avoid severely increasing costs. We as the board went back with the proposed budget, made a couple changes here and there, and came back and worked with our Connected representative, and everything's been good from there.
Being able to see Connected compared to what we had previously, it's night and day. The biggest thing is, and that may be my career choice working in negotiations, I have seen a lack of trust in a management company. The greatest thing that I've come to appreciate with Connected is that we really can trust the service we are receiving when somebody goes and gets bids. I can trust that Connected really has gotten those bids. We can trust that they're fighting for the best negotiation and the best price, knowing that that's our biggest concern as a board.
Trust is something that is few and far between in the world of property management and we definitely have that in Connected. The other thing that I would say that we are very pleased with is the open flow of communication. I mentioned it earlier, but if there's ever a question I can pick up the phone or send an email to Nick and he'll be back with us very professionally, very politely, and usually gets right to the point. I very much appreciate both the trust that we've built in each other and the communication aspect.