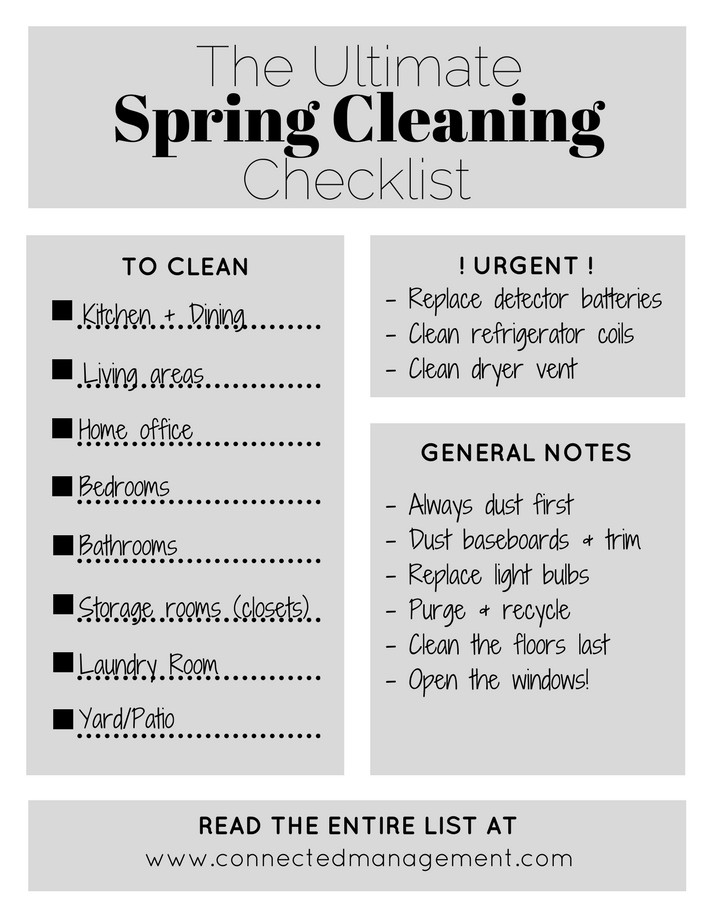 With the arrival of spring comes the desire to make everything in your condominum fresh and clean. The sun is shining, flowers are blooming, but the insides of our units may feel gloomy. Before summer comes along, it is great to crack open your windows and deep clean your condo. Use this checklist to make sure you cover every nook and cranny in your spring cleaning frenzy.
Spring Cleaning Notes:
Always dust first. Dusting surfaces first allows for the dust to settle to the fllor before you sweep, vacuum and mop. If you have operable windows with screens, open them to air out your unit and improve your indoor air quality. Follow this checklist room by room, or by task. For example, you can clean your kitchen first, or you can dust the entire condo first.
Kitchen + Dining Room
Clean out the refrigerator and pantry. Throw away expired perishable food and nonperishable food and spices that have expired or will expire soon.

Clean appliances (oven, refrigerator, dishwasher, deep freezer, trash compactor, etc.) according to the manufacturer's instructions.

Clean refrigerator coils and water line, or replace the water line if necessary.

Change refrigerator water filter.

Clean your trash can with disinfecting wipes or in the shower.

Dust counters, the dining room table, breakfast nook table, top of refrigerators and other flat and horizontal surfaces, including the ledge on drawers, the tops of refrigerator doors, and other small surfaces.

Dust chairs and barstools, and wipe down any fabric with the appropriate cleaner or a microfiber towel.

Clean curtains and blinds.

Clean windows, glass, and mirrors.

Sweep beneath appliances - pull them out to sweep behind them if you are able to.

Dust and clean decor (figurines, faux plants, tops of pictures, etc.)

Organize the cabinets and drawers.

Replace lights if necessary - above stove, in refrigerator, in the pantry, and above the sink.

Restock light bulbs and filters for the next time they go out or need to be changed.

Clean baseboards with a fabric dryer sheet.

Clean the floors. Sweep and mop them very well. Deep clean the grout. If you have rugs, clean them in an outdoor space, if possible.
Living Areas
Dust flat surfaces - tables, window sills, window and door trims, ceiling fans, light fixtures, mantles, etc.

Dust and wipe down decor such as lamps, faux plants, books and bookshelves, etc.

Change/replace light bulbs in lamps and ceiling fixtures.

Vacuum and/or wash curtains, throw blankets, throw pillows.

Clean windows, glass, and mirrors.

Clean beneath couch and chair cushions with a vacuum hose, and vacuum or wipe down cushions.

Move furniture and vacuum or sweep beneath them.

Clean baseboards with a fabric dryer sheet.

Clean the floors - mop, vacuum, wax, buff, etc. depending on what type of flooring you have.
Home Office
Organize your work and office supplies and put them in their proper places.

Dust flat surfaces - desk, storage drawers, tops of computers, window sills, etc.

Clean computer keyboards with spray or putty.

Dust/clean baseboards.

Clean the floors.
Bedrooms
Organizer your clothing and storage - dresser drawers, night stands, shoe racks, etc.

Dust surfaces, window sills, trim, light switches, and light fixtures.

Dust furniture and decor.

Clean windows, blinds, and window coverings.

Clean soft furnishings - covers/duvets, pillows, pillow covers, sheets, throw blankets, bedding, etc.

Flip and/or rotate your mattresses.

Dust/clean baseboards.

Clean the floors - sweep, mop, vacuum or steam clean depending on your flooring.
Bathrooms
Throw away empty products canisters and bottles.

Clean out drawers and cabinets.

Organize cabinets and drawers.

Replace light bulbs.

Dust surfaces and decor (cabinets, light switches, outlets, trim, etc.)

Clean mirror, windows, and any window coverings.

Clean the sink, faucet, cabinet surfaces, and backsplash.

Clean the toilet, inside and out.

Clean the tub, shower walls, faucet, and showerheads.

Deep clean tile grout and reseal or caulk any areas that need it.

Wash/clean or replace the shower curtain liner.

Clean linen shower curtains, bath mats, rugs, and towels.

Clean baseboards.

Clean the floor.
Storage Rooms (Pantry, Clothes Closets, Linen Closet, Garage, Basement, etc.)
Remove items from top shelves and dust the shelves.

Clear the floors and clean them before putting things back neatly where they belong.

Change out winter clothes for spring/summer clothes if you store them in separate places.

Get rid of things you no longer use (donate or recycle).

Re-organize closet contents and put everything where it should be. If items don't have a place, make one for them so that it is easy to put them back where they belong.
Laundry Room
Throw away (or recycle) empty detergent and fabric softener bottles and boxes.

Clean the inside of your washing machine according to the manufacturer's instructions or by running a hot water cycle with nothing inside. Clean the dryer according to manufacturer's instructions, as well.

Clean the tops of the washer and dryer that collects dust.

Clean inside the washing machine in the areas where you pour detergent, softeners and bleach.

Clean the dryer vent with a dryer vent cleaning kit.

Sweep/Vacuum or clean the floor, as necessary. Make sure to get around, behind, and under appliances, if you are able.
Deck / Patio
Pick up any fallen limbs, weeds, and other debris.

Clean your deck/patio - reseal wood decks, sweep and clean outdoor living areas.

Clean your deck/patio furniture.
General
Replace light bulbs.

Replace batteries in alarms and detectors (smoke/fire, particle, carbon monoxide, etc.)

Dust light fixtures.

Dust skylights, if you have them.

Dust light switches and electrical outlets.

Dust hallway baseboards.

Clean window sills, blinds, and curtains.